Patient Navigator Audio Series
In 2018, Run For a Cure Africa won the #C3Prize from Astellas Pharma US for innovative non-treatment ideas. We produced a true-to-life audio series of the challenges to fighting breast cancer in Nigeria. Listen to the trailer for the Patient Navigator audio series. Click here for more episodes.
#THEBIGPINKFIGHT to Mark World Cancer Day
Once again, Run For a Cure Africa joined forces with Shoprite Nigeria to provide the women of our community with free breast cancer exams and scans. Through this initiative, over 3,100 women and some men in Lagos, Asaba, Onitsha, Abuja, Yobe, and Kano were able to receive clinical exams, wellness checks, ultrasound scans, and mammography for absolutely NO COST. #thebigpinkfight
Winship Cancer Institute visits RFCA
RFCA Turns 10!
2019 marks 10 years of fighting breast cancer in Nigeria. Our run has become a movement in Nigeria and beyond. Watch our video, then get involved. #MoreThanARun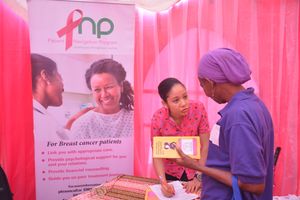 Patient Navigation Program
Our patient navigator program (PNP) is the first of its kind in Lagos. The PN is the number one advocate of the patient and helps her navigate through the scary and sometimes unpredictable medical system in Nigeria, by breaking down barriers to accessing treatment. Click here to learn more or call our PN line at 0817 000 1235.
#STILLHERESTILLRUNNING
Since 2009, Run For a Cure Africa has been fighting breast cancer in Nigeria. Operating a nonprofit in one of the most dynamic countries in the world has not been easy but it's been worth it. The last year has presented its own set of challenges but because of our partnerships and a great deal of faith and dedication we are #stillherestillrunning. Read about some of our key partners.
Our Vision
Turn the 90% breast cancer mortality rate into the 99% breast cancer survival rate.