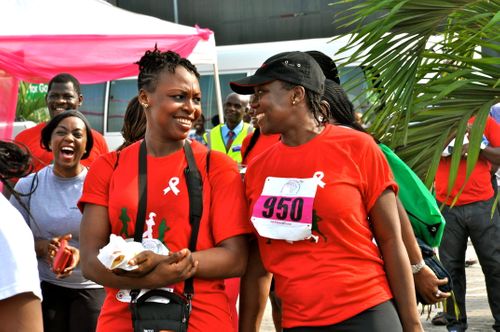 11th Anniversary Run Details: TBA
1) Why are we running? Nigeria has the highest mortality rate from breast cancer in the world. Roughly, 90% of breast cancer diagnoses in Nigeria end in death. This is largely due to late detection. Annually we run to raise support and awareness to fight this horrible disease.
2) What do I get with my registration? A race shirt, a race number, water, fruit, pastries and other goodies on that day.
3) What do I need to bring? If you have registered before the date, bring your race bib or evidence of payment. Wear running shoes/sneakers and comfortable shorts or tights.
4) Can I register on race day? Yes, you can register until 7:30 AM on race day.
5) How long is the Run? 5.5 KM
6) How will the race be timed? The top ten times in each category will be recorded (the top 5 times for over 60).
7) Do I need to bring my own water? No, water will be provided at the race site and at least 3 different stations on the race route.
8) Will there be restrooms at the race site? Yes, our sponsors, Posh Potties, will be there with their luxury stalls.
9) Will there be medical care? Yes, there will be fully staffed and stocked medical personnel and ambulances at the race site and on the race route.
10) How many people can be on a team? 1 or 1,000. There is no limit, but for teams of 10 or more, there is a N1,000 discount per runner and you can have your race packets delivered anywhere in Lagos.
11)What if I want to make a bank transfer for the registration fee?You can make a transfer to Run For a Cure Africa Access Bank Acct. 0703260639
12) Where does the run start and end? The run starts at the Palms Mall, then we do a round trip around VI, back to the Palms Mall, so it starts and ends at the same location.
See Below for More Details
Run/Walk Day Schedule:
6:30 am registration table is open (if you registered online, you can
pick up your packet at this time also).
7:00 am pre-race fruit and water
7:30 am REGISTRATION OFFICIALLY CLOSES
7:30 am opening ceremonies and warm-up
8:00 am (prompt) 5.5 km run/walk begins
9:00 am live performances, shopping expo
9:30 am awards ceremony (post-race pastries and goodies for participants )
Awards
Best team T-shirt
Best Team Performance
Best Dressed Individual
Largest Team
Largest School Team
Most Valuable Sponsor
1st, 2nd, 3rd place individual to raise the most funds
1st, 2nd, 3rd place overall female (18 and older)
1st, 2nd, 3rd place overall male (18 and older)
1st, 2nd, 3rd place elementary female (age 11 and under)
1st, 2nd, 3rd place elementary male (age 11 and under)
1st, 2nd, 3rd place sec. school female (age 12 -17)
1st, 2nd, 3rd place sec. school male (age 12 -17)
Over 60 female • over 60 male
Mama Bournvita (perseverance)
The first ten runners in each category will receive a special Medal of Completion. * (first 5 in the over 60 category)
Parking-Parking will be available on a first-come-first served basis. Carpooling would be more convenient.
For any questions, contact: 0802 287 6660 or info@rfcafrica.org.
For safety purposes, please do not bring pets or rollerblades.
We want men, women, and children to be active participants of the run/walk. Breast cancer affects us all.